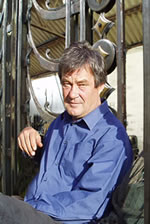 James Horrobin has lived and worked in the West Country for most of his life. He designs and manufactures architectural, ecclesiastic, domestic and sculptural metalwork to commission from his workshop and studio at Porlock, West Somerset.
The majority of his work is for private clients, but he also makes a number of small pieces for galleries and exhibitions.
Samples of his work can be seen in many public places, both in the West Country and in London. Commissions include:
Gates for the Metalwork Gallery at the Victoria & Albert Museum
Railings, gates and street lights for Oriel House, Connaught Place W1
Staircase for Charles Saatchi's Residence, London
Gates for new Bishop Fox's Community School, Taunton, Somerset
Lanterns for the Portico of St Paul's Chapel, Broadway, N.Y
Gates for the Summer Garden, Antony House, Cornwall
The Churchill Memorial Screen, St Paul's Cathedral, London
Screen at Torre Abbey, Devon
James is a member of BABA (British Artist Blacksmiths Association) and the Devon Guild of Craftsmen. His work is featured in books and publications. He holds the Silver Medal of the Worshipful Company of Blacksmiths, and was presented with the Tonypandy Award for his work on the Churchill Memorial Screen at St Paulís Cathedral.